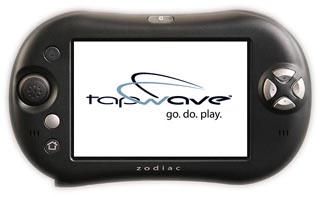 What went wrong? It's a few simple things:
First and foremost: lack of support. Game developers did not support the Zodiac, thus a library of crummy games. The best game was Warfare Incorporated which was developed by some palm company no one has ever heard of! The Zodiac did have its fare share of semi-well known games such as Duke Nukem, Spy Hunter, and Tony Hawk; but the developers of the games put little effort into making them good. The rest of the games were cheesy palm games playable on any PDA.
Second, who the heck has ever heard of Tapwave!? Tapwave was a little known PDA company who should have stuck to what they made best PDAs. The Zodiac is a rather good PDA except for one major flaw: if the battery drops to zero, the system resets and deletes all saved data. This is why I never use the PDA and have all of my games and media on SD cards.
The rest of the features are mostly useless. The video playback sucks; it only plays Quicktime videos that have to be converted to a special format using a special program before you can view them on your Zodiac. Sorry, but I'd rather watch movies on my PSP's widescreen format.
So, what do I use my Zodiac for these days? I seldom play the games because they aren't any good. What I do use is the MP3 player. It seems to be the only thing that was done right. Works great, and you can hold over 2 gigs of songs!
I think if the Zodiac had better games it might have succeeded. It had a perfect design: large screen, seven face buttons, and it's the only handheld with a true analogue stick. Sadly, these weren't put to good use. I think the Gizmondo is doomed to fail as well even if it has the support of some major companies; it's just a feeling way down in my gut. As for the N-Gage, I'm surprised that thing has lasted so long!
If you're a Zodiac owner you can still get games and accessories at a Comp USA near you; while supplies last, of course.